Sharon Gwaltney-Brant, DVM, PhD, ABVT, ABT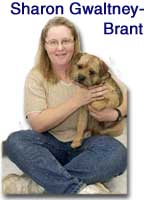 Board Certification
American Board of Veterinary Toxicology (ABVT) - Pharmacology/Toxicology
American Board of Toxicology (ABT) - Pharmacology/Toxicology
Education
Doctor of Philosophy (PhD) - Kansas State University
Doctor of Veterinary Medicine (DVM) - North Carolina State University
Bachelor of Science (BS) - North Carolina State University
Residency in Anatomic Veterinary Pathology, Kansas State University
Current Professional Activities
Consultant - Veterinary Information Network
Adjunct faculty, College of Veterinary Medicine, University of Illinois
Past Professional Activities
Medical Director and Vice President, ASPCA Animal Poison Control Center
Pathology residency Kansas State University
Post-doctoral position National Animal Disease Center, Ames, IA
Private Veterinary Practice
Marital Status
Married.
Introduced to hubby Tom when my Doberman fell in love with Tom's Newfoundland in obedience class.
Surrogate Children
Raster, Border Terrier
Banter, Newfoundland "wild child"
Hobbies
Dog training--agility, obedience, Newfoundland water and Draft work
Active in our local and national Newf clubs' events and rescue operations
Reading
Drawing
Gardening
What I like Most About VIN
The wide variety of experience and knowledge that everyone brings into
the community.