Sandra McConkey, DVM, PhD, Dipl. ACVP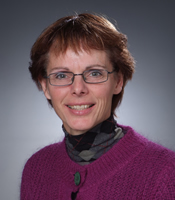 Board Certification
American College of Veterinary Pathology (ACVP)

Education
DVM, Ontario Veterinary College
PhD, Atlantic Veterinary College

Current Professional Activities
Associate Professor, Atlantic Veterinary College

Past Professional Activities
Small animal private practice for 8 years
Residency in Clinical Pathology
Clinical Pathologist, Atlantic Veterinary College
Associate Professor, Clinical Pharmacology, Atlantic Veterinary College

Special Interests
Antimicrobial resistance
Adverse drug reactions

Memberships
American College of Veterinary Clinical Pharmacology
American Society for Veterinary Clinical Pharmacology
Canadian Veterinary Medical Association
Prince Edward Island Veterinary Medical Association
Current Research/Clinical Interests
Optimizing antimicrobial use in salmonids being treated for pisrickettsiosis
Relationships/Spouse/Children/Pets

Married to a large animal veterinarian. We have two adult children, one insanely happy Labrador (who eats everything in sight) and one very bossy Birman cat.
Hobbies
Running, biking, traveling, gardening, reading, family, and a lot of dog walking.

Favorite Book
Indian Horse by Richard Wagamese
The Harry Potter books (and movies)
Favorite Quote
"A day may come when the courage of Men fails, when we forsake our friends, and break all bonds of fellowship, but it is not this day." - Aragorn, The Return of the King.
What I like Most About VIN
I LOVE VIN. It is an amazing resource. I use the searches for finding out what is current with drug use and can never resist checking out the news releases on the front page.