Meghan Milbrath, PhD, MPH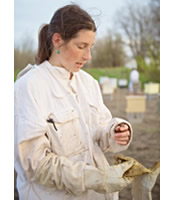 Education
PhD, Environmental Health Studies, University of Michigan 2012
MPH, International Health and Development, Tulane University 2004
BA, Biology, St. Olaf College

Current Professional Activities
Academic Specialist, Honey bees and pollinators extension and research, Michigan State University Department of Entomology
Coordinator of the Michigan Pollinator Initiative
Owner, Sand Hill Apiary

Memberships
Member, American Beekeeping Federation
Member, Entomological Society of America
Michigan Beekeepers Association
South East Michigan Beekeepers Association
Center of Michigan Beekeepers
Ann Arbor Backyard Beekeepers
Hobbies
I don't have any hobbies because I don't have any time, but I love all the work that I do.
I work at Michigan State University doing honey bee extension and research
I run my own beekeeping business (http://www.sandhillbees.org), where we run 200 hives for honey production and queen rearing.
I teach beekeeping
I write and read about bees, and spend any free time turning our 80 acres into the best pollinator habitat possible.

Pets
My husband and I raise hogs and chickens, and have 2 dogs - a lovely, well behaved Labrador and a border collie mix that happily terrorizes everyone.