Barbie Papajeski, MS, LVT, RLATG, VTS (Clinical Pathology)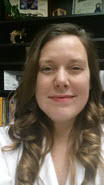 Certification
LVT Kentucky
RLATG
VTS (Clinical Pathology)
Education
Murray State University (Murray, KY) BSA in Veterinary Technology, 1995
Murray State University (Murray, KY) MS in Agriculture, 2000
Current Professional Activities
Kentucky Veterinary Technicians Association (member and secretary)
National Association of Veterinary Technicians in America (member)
Association of Veterinary Technician Educators (member)
American Association of Laboratory Animal Science (member)
Academy of Veterinary Clinical Pathology Technicians (member and secretary)
Senior Lecturer at Murray State University teaching clinical pathology, laboratory animal and small animal science courses
Past Professional Activities
Papajesk, B. "Hematology: Preparing your Sample, Staining, and Identification of Abnormals". Twin Lakes Veterinary Conference at Breathitt Veterinary Center in Hopkinsville, KY (1997)
Papajeski,, B. Master's Thesis "Comparisons between Selected Serum Chemistries and Animals Testing Positive, Negative, and Suspect for Mycobacterium Paratuberculosis with ELISA Testing" Murray State University. Murray, KY. (May 2000) Kentucky Veterinary Technician Association Newsletter: Quarterly electronic newsletter sent out to all KVTA members.
Spring Fling 2014, "Career Development in Veterinary Technology," Kentucky Veterinary Technician Association, Lexington, KY. (April 2014)
Rekosh, C. (Presenter and Author), Papajeski, B. (Author), Derting, T. (Author), Annual Meeting of the KY Wildlife Society, "Absence of S. neruone in Virginia opossums (Didelphis virginiana) in Calloway County, Kentucky?," KY Fish and Wildlife Resources, Lucas, KY. (February 2014).
Rekosh, C. (Presenter), Papajeski, B. (Author), Derting, T. (Author), Annual Meeting of the KY Wildlife Society, "Causative agent for Equine Protozoal Myeloencephalitis not detected in Virginia o'possums in Calloway County, Kentucky.," KY Fish and Wildlife Resources, Lucas, KY. (February 2014).
Crump, C. (Presenter and Author), Papajeski, B. (Author), Derting, T. (Author), Kentucky Academy of Science Annual Meeting, "Absence of S. neurona in Virginia o'possums (Didelphis virginiana) in Calloway Co., KY.," Kentucky Academy of Science, Morehead, KY. (November 2013).
Lewis B. and Papajeski B. Veterinary Technician Career Development and Opportunities - Exploring Career Options and Specialization. Kentucky Veterinary Technician Association Spring Fling Conference at the Kentucky Horse Park, Lexington, KY. (April 2014)
Active Participant in the Self Study and Preparation for AVMA Accreditation of the Murray State University Veterinary Technology Program, 2000, 2009, 2014
Lewis B. and Papajeski B. "Do you see what I see? Sharpen your clinical pathology skills." Lecture and Wetlab. Mid-America Veterinary Conference in Louisville, KY. (September, 2015)
Personal
I have been married for 14 years to an amazing patient man who loves animals as much as I do. I have two young boys ages 8 and 12 who I love to spend time with.
Pets
Three dogs: Brodie – a beagle / cattle dog mix, Ruby - a redbone coonhound, Reese – an Aussie / Lab mix who looks like a Catahoula.
Five cats: Two sets of siblings, Abbie and Ashley, Sassy and Gabe, and Willow the new kid on the block.
Also a flock of approximately 50 poultry, each with a name, rabbits, and several ornamental tanks
Hobbies

Spending time outdoors hiking, camping, and gardening
Taking short term mission trip as a family
What I like Most About VIN
I've enjoyed VSPN because networking and quality continuing education is right at your fingertips and accessible when it's most convenient for me.