Barbara Fougere, BVMS, MA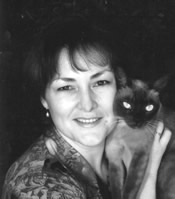 Board/Specialty Certification
Certified Vet Acupuncturist IVAS
Certified Veterinary Botanical Medicine VBMA
Certified Veterinary Chinese Herbal Medicine IVAS
Graduate Diploma Veterinary Acupuncture
Graduate Diploma Veterinary Chinese Herbal Medicine
Graduate Diploma Veterinary Western Herbal Medicine
Education
Grad Dip VA, College of Integrative Veterinary Therapies 2013
Grad Dip VWHM, College of Integrative Veterinary Therapies 2012
Grad Dip VCHM, College of Integrative Veterinary Therapies 2012
MHSc (Herb Med), University of New England 2006
BHSc (Comp Med), Charles Stuart University 2004
Grad Dip Phytotherapy, Australian College of Phytotherapy 2003
MODT, University of New England/Southern Cross University 1995
Grad Dip Soc Sc, University of New England 1994
Grad Dip Business Mgmt, University of New England 1992
BHSc BVMS (Hons), Murdoch University 1986
Current Professional Activities
Educator on the IVAS Certification program, for the Graduate Diploma post graduate qualifications for the College of Integrative Veterinary Therapies
Practitioner of Integrative Medicine, Sydney, Australia
Immediate Past President and Board Member IVAS
Pas President and Board Member of VBMA
Chair person of the American College of Veterinary Herbal Medicine
Board Member, WATCVM
Past Professional Activities
I have worked for Quintiles, a clinical research organization
I have worked in the pet food industry for Mars as a Nutrition Advisor, Technical Veterinarian, and in External Relations; I have worked for Waltham in the UK as a Training Specialist; and I have worked as a Business Manager.
I have worked as a consultant in training and development for Schering Plough, Pitman Moore, Waltham, Mars, Stryker, and Bomac; Developing and delivering training across all areas both technical and skill development.

Honors, Awards, and Fellowships
Community Service Award for the Australian Veterinary Association for re-homing cats and dogs
Educator of the Year, AHVMA 2012
Practitioner of the Year, AHVMA 2013
Memberships
AVA
IVAS
AHVMA
VBMA
AVAG
ACNEM
NHAA

Current Research/Clinical Interests
Integrative medicine
Education

Relationships/Pets
One 2-legged animal, Karl
A 43 year old Sulphur crested cockatoo called Zac, who lives in a tree outside my office
8 chickens
4 frizzles
4 cats
Hobbies
Orchids
Mushrooms
Herbs
Organic gardening
Travel
Collecting old veterinary material medicas
Favorite Movie
Favorite Quote
"As one door closes, another opens."

What I like Most About VIN
Collective experience and knowledge shared