Jenni Jenkins-Perez, LVT, CVT, AA, BAS (VT)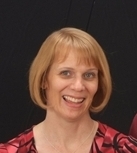 Board Certification
CVT (Certified in Florida since 1998
LVT (Licensed in Michigan since 1988)
Education
Michigan State University Veterinary Technology Program in 1988 and became a Licensed Veterinary Technician in Michigan
Liberal Arts study Cambridge State University
Associates of Arts degree from St. Petersburg College, July 2002
Bachelor of Science in Veterinary Technology from St. Petersburg College, July 2012
Current Professional Activities
I work for Affiliated Veterinary Specialists in Maitland, FL
I am a consultant for a veterinary technology program in central Florida
Lecturing on Reptile Hematology, Reptile Parasitology, Avian Hematology, and Avian Cytology
Writing articles for Veterinary Technician Magazine.
Past Professional Activities
I worked as a veterinary diagnostic laboratory technician for Antech from 2004-2006.
I then taught veterinary assisting at a private school in central Florida, and a couple of years later returned to private practice working as the technician supervisor for Winter Park Veterinary Hospital.
From there, I worked at Disney's Animal Kingdom from 1997-1999.
My next career move was as the assistant marine animal stranding coordinator and as a clinical pathology technician at the National Aquarium in Baltimore from 1992-1997.
I then moved to Kansas where I worked at the Sedgwick County Zoo in Wichita from 1989-1992.
Registered in Kansas from 1989-1992
I started my career in private practice working for a veterinarian who was the contracted vet for the John Ball Zoo in Grand Rapids, MI.
Registered in Maryland from 1992-1998)
Marital Status
Pets
We have one dog, one cat, a yellow-naped Amazon and a blue-tongued skink.
Hobbies
I enjoy doing many things but lately, have found the time is limited. When I do have the time, I enjoy stage managing for community theater, scuba diving, movies, and dog training.
What I like Most About VIN
I like VSPN because it is an excellent way for all of the support staff to get up-to-the-minute info and also get support from peers in your profession. I especially like the fact that the entire veterinary team is represented in some manner and education is offered to all members of the veterinary team. The info available on this site is of the highest quality.