Sarah K. Abood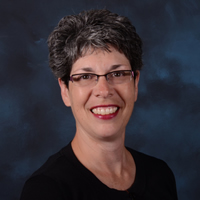 Education
B.S. Michigan State University, 1984
D.V.M. Michigan State University, 1988
PhD The Ohio State University, 1997

Current Professional Activities
Sit, Stay, Speak Nutrition, LLC

Past Professional Activities
Former Assistant Dean for Student Programs and Small Animal Clinical Nutritionist, Michigan State University, 1999-2016
Research & Development at Ralston Purina Company, 1994-1999
Marital Status
Married to Larry Stump, artist extraordinaire and recipient of the 2017 Guinness World Record for the world's largest tunable ukulele.

Children
Joseph: 17 yrs old
Reuben: 15 yrs old
both are talented musicians and performers in several bands

Hobbies
Reading for pleasure
Camping in Northern Michigan
Spending time with family
Enjoying live music, theater, museums and art shows.
Favorite Quote
"All good things come to those who wait."

What I like Most About VIN
The ability to tap into the incredible exchange of knowledge and expertise that occurs on the Boards!