Ken Harkewicz, BS, VMD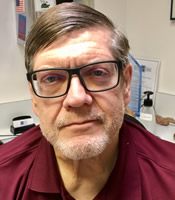 Education
VMD - University of Pennsylvania, 1981
Bachelor of Science (BS), Pennsylvania State University, 1975
Current Professional Activities
Exotic animal veterinarian-Berkeley Dog & Cat Hospital, Berkeley, CA
Staff Veterinarian- The East Bay Vivarium, Berkeley, CA
President - The Association of Reptile and Amphibian Veterinarians (ARAV), 2011-2012
Marital Status
Florence A. Harkewicz, Graphic Designer, pet Mom
Children
Only those with four or no legs!
Pets
Jean-Luc a French Bulldog, Lil' Pea a Pug-Chinese Crested mix (don't ask!)
6 cats (4 indoor, 2 outdoor adopted strays)
Two parrots (one I've had for more than 30 years), 2 cockatiels
20+ exotic tortoises
200+ various reptiles, amphibians, arachnids, invertebrates, and tropical fish
Hobbies
Keeping and breeding reptiles & amphibians
Organic fruit and vegetable gardening
Science fiction
Trivia
Gourmet cooking
Favorite Quote
What I like Most About VIN
The wealth of information that is easily attainable, and the great people I get to know and "meet" online.